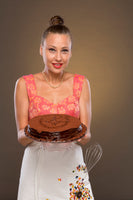 The Story
It all started when I was a little girl, with my favorite cake. A magic chocolate cake, made of eighty percent pure chocolate cream, whose recipe I inherited from my best friend's mom, when I left my hometown – and the only chocolate cake I have been baking ever since. I have always loved to see the joy the taste of this chocolate cake can bring to others. So I decided to keep spreading the magic, everyday, to as many people as I possibly can. Thank you for being a part of my story!
- Adina Weiner
Read more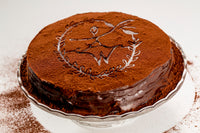 The Magical Cake
Le Gâteau Magique
Le gâteau est fait d'une crème au chocolat pur à 80%, selon une recette dite royale. Bien qu'il s'agisse d'un secret bien gardé, je vous confie ses ingrédients: cacao, œufs, beurre, sucre, farine, eau, et un peu d'amour.
Un gâteau éponge délicieux, deux couches généreuses de crème au chocolat, et une couche de cacao saupoudrée sur le dessus: le gâteau Weiner, au goût riche et intense, diffuse sa magie et donne du plaisir à tous ceux qui le dégustent, amateur ou non de chocolat.
.....
The Cake is made of eighty percent pure chocolate cream, using a recipe said to have royal roots and, even though it is a well kept secret, I can disclose its ingredients: cocoa, eggs, butter, sugar, flour, water, and a little bit of love.
Two thick layers of chocolate cream, a delicious sponge cake base and a top layer of chocolate powder – the Weiner's Cake is very dense and has an intense taste, that spreads magic and delight to everyone tasting it, whether they are chocolate lovers or not.
What people say about the magical cake?
This is a chocolate cake taken to the next level in every respect! I recommend it fully and promise that it is an experience you don't want to miss out on. The texture is delightfully balanced as its layers intersect for a perfect blend. It alternates between a spongy and moist base and rich chocolate creamy fill. The taste is one you won't forget, because the ingredients used are specially chosen of the highest quality. The presentation of the cake, between the beautiful imprint on top of the cake and the delicate and personal packaging is of a raised standard in aesthetics. Choose this delectable cake to celebrate and treat a friend, a loved one or yourself!

Briah Cahana
There are chocolate cakes and then there are chocolate cakes. This one stands out as just being simply phenomenal and it shows that it is truly made with love. From the beautifully decorated box, to the handwritten ingredients label, and finally to the cake itself, this cake is second to none! I highly recommend it, and this comes from someone who generally shies away from anything chocolate. The only thing about this cake is that if you're having a party, you shouldn't expect to have any leftovers because this one goes fast! Happy eating!

Matthew Meland
I ordered The Royal Delight, and it was the most chocolatey, exciting birthday cake I could ask for. Opening it sort of felt like opening an Apple product, with the tight-fitting packaging and expertly (and handmade, what?) business cards and logo designs. Very home-y. So, win for presentation.

Admittedly I'm normally a vanilla person, but clearly there are exceptions.

What really got me was the combination of textures and flavours across layers. Some I could just bite into, others would just melt. The whole thing was a delightful surprise. Can't wait to try the next one

Gregory Frank
Un gateau moelleux, chocolaté a souhait ainsi qu'une superbe présentation. Une boite personnalisée et plein de petites attentions. Merci Adina pour ton accueil, tu es vraiment une fée. #magic

Sabina Bogdan
Heavenly chocolate that melts in one's mouth! I had high expectations and was not disappointed. Strongly recommend this to anyone who wants to improve the quality of their life!

Nadia HK
This is not your regular store bought industrial cake. This is art! Everything is so well thought off: from the divine recipe and the originality in packaging and personalized messages. Every bite is pure magic in your mouth. Bravo! Wishing you much success #SpreadTheMagic

Yael Soussana
Yes indeed her cakes are magical! Made with love definitely makes her cakes stand out from the rest, I love the fresh ingredients, the taste is quite special and the presentation makes you feel like like you're eating a gift! Would be proud to serve it to guests but saving; thus savoring it for myself to enjoy, tends to what happens.

Christine Claire Deita
One of the best chocolate cake I had! Bravo bravo and bravoooooo! The packaging, the messages on the spoons and the finesse of every little detail just makes every spoon of it soooo precious! MErci and long life to Weiners! 💕💕

Mouna Joulali
holy cakes! this chocolate frenzy sweeps you off your feet & makes you ask for more, that's for sure. true heartfelt delight, with lots of sweet memories on the side.

Tudor Ciurescu
Contact
T: 514 946-3350
E: order@weiners.ca
1838 Saint-André, H2L 3T8, Montreal, Canada